Publication:
Factors affecting English Language teachers' classroom assessment practices: A case study at Singapore secondary schools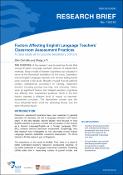 Authors
Abstract
The purpose of the research was to examine factors that swayed English Language teachers' choices of assessment methods. Borg's model of teacher cognitions was adopted to serve as the theoretical foundation for this study. Secondary school English Language teachers with diverse backgrounds were involved in the study. Results showed that educational context, professional coursework or training, classroom practice including practice teaching, and schooling history were all significant factors that shaped teachers' cognitions and affected their assessment practices. Each of the four factors imposed a different level of impact on teachers' assessment practices. The educational context was the most influential factor while the schooling history was the least influential factor.
Description
This brief was based on the project OER 24/09 SCM: Classroom Assessment Practices of Secondary School Teachers of English in Singapore.
Citation
Shih, C.-M., & Wang, L.-Y. (2013). Factors affecting English Language teachers' classroom assessment practices: A case study at Singapore secondary schools (Research Brief No. 13-010). National Institute of Education (Singapore). https://hdl.handle.net/10497/15003